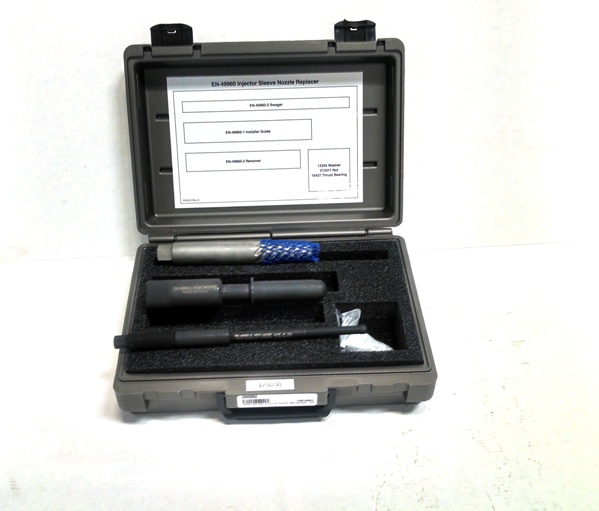 6HE/6HK/4HK Injector Sleeve Rental Kit
Description
Tool Rental Kit Available For Injector Cup Replacement
Rental Kit is Designed to Make the Repairs Without Removing Cylinder Head
Daily Rental $110.00
Security Deposit $995.00
The Isuzu 4HK-1, 6HE-1 and 6HK-1 use copper tubes to separate the engine coolant from the injectors.  These copper tubes are swage sealed to the head on the bottom & "O" ring sealed at the top.  If the copper tube seal begins to fail the technician will note either combustion gasses blowing coolant out of the radiator into the overflow bottle or will note engine oil in the radiator.  This tool offers a simple, cost effective way to solve this problem.
This tool allows technicians to:
Remove the injector copper tubes with the cylinder head still on the engine.
Reinstall & swage fit the the tube tips to the head.  This entire process can be done with the cylinder head left on the engine.
Save time & money by not having to remove the head nor having to buy a head gasket kit.
Call our tech support sales people today to get complete details on this products rental information and requirements.
Call us today at: 1-888-253-3789
Note: Tool kit contents may vary from picture.
Additional Information
| | |
| --- | --- |
| Dimensions | 12.00 x 9.00 x 1.00 in |